Sand recycling machine can solve big problem
2017-03-25
Fine sand recycling machine is designed for the dewatering, medium removal and mud removal of slurry material. The most characteristic of this machine is that it can well solve the problem of fine sand loss in sand making or washing plant. Fine sand recovery machine is also known as tail sand recovery machine, fine sand extraction machine, fine sand collection machine, sediment separation machine, mud separation machine, sand water mixture treatment system.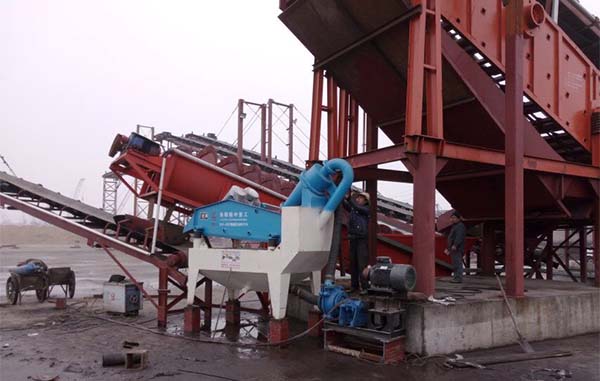 Sand recycling machine is usually followed sand washing machine to recycle fine sand in muddy water that discharge from sand washing machine and recycle the fine sand, no matter bucket sand washing machine ore sand screw washer. It is the absorption of foreign advanced technology and combined with the actual using situation of customers, and can be widely used in the large-scale infrastructure construction aggregate processing, glass raw material processing system, artificial sand washing sand production line, coal preparation coarse slime recovery, environmental protection engineering industries.
Working process
Slurry pump delivers the sand water mixture to cyclone, and the centrifugally graded fine sand is supplied to dewatering screen for dewatering through grit nozzle. Then the fine particles are effectively separated from water. And a small amount of fine sand, mud return to the washing tank, when the washing liquid level is too high, it is discharged through the discharge port. The input concentration of material linear to sand recycle machine is required from 8% to 30%. Adjusting the fineness modulus can be achieved by changing pump speed, mortar concentration, adjusting the amount of overflow water, and replacing the sand nozzle. To complete the functions of washing, dehydrating and grading.