How to carry out the daily maintenance of sand recycling plant?
2016-06-25
Longzhong sand recycling plant has the following three characteristics: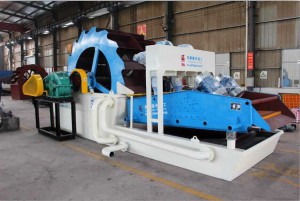 1, large capacity, high recovery rate, less power consumption.
2, the use of a simple lock bolt connection, the overall structure of light and strong, reliable performance, easy maintenance.
3, the use of rubber springs as a buffer, so that the smooth running of the machine, greatly reducing noise pollution.
In order to avoid sand recycling equipment in use process failure, sand recovery device for a period of time, you need to we the were necessary for the daily maintenance of fine sand recovery machine maintenance. In the sand recycling equipment maintenance process, we need to pay attention to many details, summarized as the following aspects:
1, to ensure the accuracy of the surface to disassemble, disassemble parts should pay special attention to protection, prevent man-made damage and dirt contamination.
2, disassemble parts the process of bearing and assembly to disassembly part will be placed in specific wood, prohibit the direct contact with the ground.
3, assembled or disassembled components cannot be directly used a hammer percussion of violence, the connection section of the components may according to need to add copper pad or appropriate liner.
4, if a single bearing damage, it must be replaced with two bearings.
5, when replacing the "O" ring, oil and roll into the groove, stretching is not allowed.
6, the installation of new screen, frame of the sieve screen and angle iron or steel hook firmly and evenly tightened on the box of the bearing cage.
7, all parts must be cleaned before assembly to oil.
8, lifting parts, lifting equipment should have enough lifting capacity.