International certificated sand washer from LZZG, honest supplier in China
2016-08-26
The increasing investment in infrastructures gives birth to more and more projects in construction and road -building areas in recent years. Therefore, there is an upward trend in the demand of the construction materials, especially for construction sand, this is the reason why sand washing equipment is more and more popular all over the world.
Taking this opportunity, our company has developed a kind of sand washing machine—XSD Sand Washing machine.
It is widely used for cleaning materials in the following industries: quarry, minerals, building materials, transportation, chemical industry, water conservation and hydropower, cement mixture station and so on.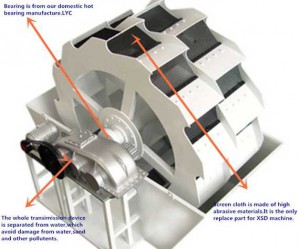 Having a simple structure and good performance is the merit of it. In addition, the new sealing structures and adjustable overflow plate can guarantee product's high efficiency and reliability. It also has a large yield to meet the different needs of the clients.