Longzhong LZ30-65 series sand recycling machine system characteristics
2016-07-22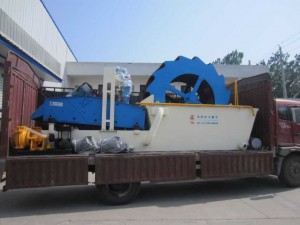 1, the whole process of sewage treatment capacity, high efficiency of purification and recovery, can be effectively recycled 0.2mm above sand.
2, the operation is simple, the installation, use and maintenance is convenient, the fault rate is low.
3, advanced linear vibration screen with ballast material screening out dehydration effect is very good.
4, sieve body using buffer device, can effectively reduce the working noise.
5, wear and corrosion resistance of centrifugal slurry pump with advanced structure, high level of generalization, reliable operation and the assembly and the disassembly maintenance is convenient wait for a characteristic.
6, thick and heavy grinding bracket which is suitable for the long-term delivery of strong corrosion and high concentration slurry.
7, structural parameters of advanced hydrocyclone with excellent mud sand sorting index. Material wear-resisting, corrosion resistance, light weight, so it has the characteristics of easy operation and adjustment, economic and durable. Suitable for long term maintenance free use under bad working conditions.