Longzhong sand recycling machine has many advantages of improved performance
2016-09-11
Longzhong sand recycling machine has many advantages of improved performance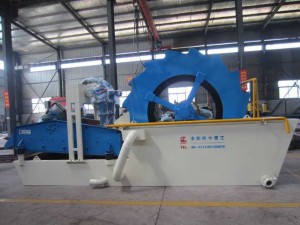 1, high quality mesh, quality assurance, dehydration sieve using polyurethane screen longer, without plugging holes.
2, high quality sand separator, long service life of the lining of polyurethane, improve the service life of the whole device can be successfully completed slurry concentration, liquid clarification and other work.
3, advanced technology, structural precision, drawing on the world advanced manufacturing technology, digital analysis of the operation of the parts, the internal structure of precision, equipment service life is greatly extended.
4, the full recovery of the burden of fine sand sedimentation tank, fully recovered, reduce sedimentation workload, reduce the cost of cleaning up the sedimentation tank.
5, the structure is simple, easy maintenance, after several field test and improvement, streamline the redundant components, the overall structure of the equipment is simple and efficient, strong recovery ability, operation and maintenance, low operating costs and so on.
Customer demand is the direction of our efforts. The company not only in the existing production processes to protect the quality of the advantages of products, but also adhere to innovative research and development technology, has always been to the international leading level of impact.