Longzhong sand washing machine has advantages than the traditional equipment doesn't has
2017-01-19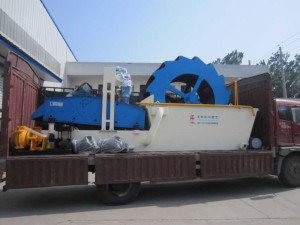 Sand washing machine is widely used in metallurgy, building materials, water and electricity industries such as cleaning, grading, impurities and other operations of fine grain and coarse grained materials, washing operations. Construction sand, gravel roads are still appropriate to use. The sand washing machine has the advantages of reasonable structure, convenient maintenance, small power consumption, and clean and clean. New sealing structure, all enclosed oil bath type transmission device, adjustable overflow weir plate, to ensure that the product efficiency, durability, cleaning, dehydration effect is good, fine grain products to maintain stability and so on a variety of industries.
The sand washing machine has the advantages of simple structure, the impeller drive bearing device with water and the water isolation material, greatly avoid the bearing due to flooding, sand and pollutants caused damage of the phenomenon; the machine is used for sand and gravel,the  sand washing compared with traditional spiral sand washing machine has obvious advantages as  the following:
(1) in fine sand and stone powder loss, wash the sand distribution and fineness modulus of countries standard;
(2) aircraft in addition to the screen almost no wearing parts;
(3) long service life, no maintenance for a long time.