Longzhong sand washing plant advantages
2016-07-04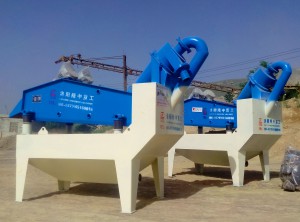 product advantages:
Reasonable structure, novel seal structure, totally enclosed oil bath gear, adjustable overflow weir plate, to ensure that the products efficient, durable, washing, dewatering effect, fine products remained stable.
Long service life and no quick-wear part, leading to low investment cost and operation cost.
Large capacity, small power consumption.
Transmission bearings of impeller depart from water and material, avoiding being eroded.
Saving water resources, pollution-free, durable.
working principle:
The electric motor runs slowly with the impellor just after decelerated through the belt, decelerator and gears wheel. The sand and stone flow into washing launder from feeding launder, rolls with the impellor, and grinds each other. The impurity covering the sand is washing away. Firstly, water is removed from your sand and stone; Secondly, the water can be thoroughly used. Thirdly, the sand and stone goes for the out launder in the rotary impellor to finish the washing undertaking.