LONGZHONG use reputation to win repeat customers
2016-08-30
As early as the end of September 2014, the customer from Jakarta, Indonesia, has booked a LZ550 model of fine sand recovery machine. When customers buy equipment, hesitation, said to the sales staff that if your fine sand recycling equipment running well, when they build the second battlefield will choose to cooperate with LZZG once again.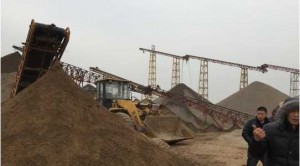 LZ550 types of sand recycling machine delivery on October 1st, coincided with the Chinese Golden Week for discount, the customer not only get a preferential price, but also presented many spare parts for free. The customer was very quickly returned the spot payment, very happy to set cooperation with LZZG for the second time. The customer watched the sand piled up into a hill, grinning from ear to ear. After that, barber ZHANG achieved a congratulatory message, thanks LZ heavy equipment so good. Customer gave a high praise that LONGZHONG machine are both excellent in quality and reasonable in price. According to this down, less than three months the client can recover the cost.
One day in June 2016, LZZG received the customer's phone again, direct procurement of a LZ650 model of fine sand recovery machine and two sets of TS1530 model of the dewatering screen. He believes long products, high quality customer service for nearly 2 years, customers feel the long's caring sincere heart. Such a serious and responsible for customers, it is worth a second cooperation.

LONGZHOGN heavy industry is also very grateful, regard the work site of the customer as a base in Indonesia, to receive more customers nearby. The customer always advised, worked tirelessly to other customers to explain sand reclaiming machine benefits, brought many repeat customers for us.