LZZG Twin Deck Dewatering Screen
2016-09-26
With the developmentand application, the single small dewatering screen on the market has been difficult to meet the needs of the production . So LZZG produce the large double sieve dehydration. Compared with single small sieve dehydration, the advantage of the twin deck dewatering screen is obvious.Such as: high efficiency, high yield, good effect of dehydration, screening of high precision, less energy consumption, the advantages of small investment cost, is widely used in sand, salt, sugar, coal preparation, ore dressing dehydration, dry wet type materials such as grading.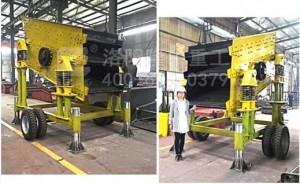 On the basis of the single-layer sieve dehydration,LZZG improvement of innovation, it can screen out two different fineness of materials, to satisfy the customer demand for different materials.Large double sieve dehydration adopted double electrodes since synchronization technology, universal eccentric block, adjustable amplitude is mainly composed of screen box, vibrator, supporting system and the motor.Coupling respectively by tape drive two mutually contact vibrator are synchronous reverse operation, two groups of eccentric mass produced by centrifugal force along the direction of vibration force component overlay, reverse centrifugal offset, so as to form a single, along the direction of vibration induced vibration makes the screen box affectation reciprocating linear motion.
The generation of large dewatering screen will reduce the investment cost of the customer, increase the yield and quality of products, bring considerable economic benefits for our customers.For large and medium-sized sand plant, coal preparation plant of users, the generation of large sieve dehydration can replace sand washing machine, filter machine, dryer and use, reduce the cost of investment already so, also can achieve a lot of dehydration effect and efficient production efficiency, to bring significant economic benefits for the customer.