Maybe you need This Y series vibrating screen with gravel screen
2016-09-08
The stone after crushing need to be graded, so the gravel screen is essential.
About this machine
This Y series vibrating screenusing gravel screen is vibrated by the circling motion. It is high efficient screen for filter materials into multiple grade according to the gravel size. For the compact structure and the convenience installation, it is the ideal screening device for pre-filter of the feed materials before the primary crushing in the quarry site, it also can be used as separation and filtration solely.The vibrating screen adopts cylinder type eccentric shaft vibrator and partial block to adjust the amplitude. The materiel sieve drip line is long and more sieving specifications.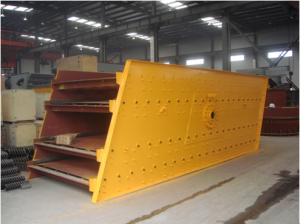 The circular vibrating screen can also used for production classify in quarry, mine, construction, electricity, chemical industry,etc.
The vibrating screen uses the motor to drive the eccentric shaft to make the screen body periodically along with the direction of vibration force. The materials make circular movement on the screen to realize sieving.
Features
1.Cylinder-type eccentric shaft and eccentric block to make strong vibrating force.
2.Long material screening line, various sieving specifications.
3.Simple structure, reliable operation, low noise, low power consumption.
4.High screening efficiency, large capacity, less block.
5.Sealed structure available to protect the dust pollution.
6.Adjustable amplitude by changing the weight of the eccentric block.