Notice! How to install vibro screen correctly?
2016-07-25
With the improvement of our manufacture technology, vibrating screen is popular at market, more and more people are interested in it.
Though vibrating screen is so hot, standard operation also needed our attention. The Vibrating accelerated speed should no more than 20g (g:9.8m/s acceleration of gravity)Working environment temperature lower than 40℃;Elevation shall be within 1000m, if between 1000-4000m, the higher every 100m, the temperature limit lower 0.5 ℃;Power should be 3 phrase, voltage 415v, frequency 50hz;it can bear the temperature of below 95 ℃; working environment shall be none conductive dust, none inflammable, explosive and corrosive gas.
So the vibrating screen should be install correctly, it can the guarantee of proper functioning.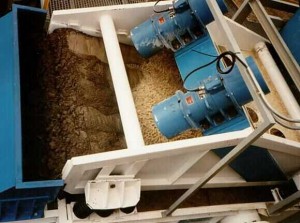 Firstly, the equipment is supplied in a whole set by our factory, customer examines it after receiving the equipment to eliminate the injury that could be collided during the transportation.
Secondly, installer should be familiar with the equipment structure, capacity and technical requirement, set out suitable installation process rules in advance.
Installation site should have enough lifting equipment, in order to protect screen frame, the equipment is not allowed to hauled on the ground.
Next, dewatering screen should be installed in strong reinforced concrete, the height, strength and area of base should be calculated according to the soil condition and use condition, it also can installed in steel frame, the installation size can refer to foundation drawing.
Then, the 4 corners of dewatering screen should be horizontal and with the same stress.
Finally, all the motors should be waterproof, dustproof and ground connection.