Sand washing and recycling machine
2016-09-22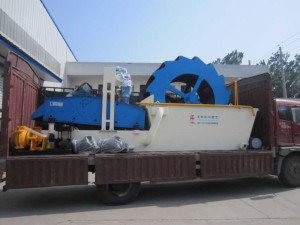 What it is?
Fine sand recycling machine is a new design. Over the years, continuous innovationand customer communication, our company develop and manufacture new products according to the market demand.The machine body is reasonable, covers an area of small, high efficiency.In traditional washing sand, fine sand erosion, which covers an area of the artificial.This function effectively control sand erosion, improve the quality of the sand, can control the flow of the concrete medium sand body, reducing the amount of cement.The increase of the sand washing plant efficiency.
How it work?
*Washing: The bucket is driven by the motor through the reducer and rotates in circle. There are many sand storage web grooves and bucket screen for sand storage and primary dewatering. When the bucket moves , sand can be put out by sand storage web groove after being cleaned in the cleaning tank and primary dewatered on the bucket screen.
*Recycling: Flowing slurry water is extracted by slurry pump, fine sand is collected by the centrifugal force of the cyclone, then fed to the polyurethane screen from the apex spray. The 0.16-3mm fine sand and water are efficiently separated through the vibration screen.
*Dewatering: coarse sand (3-10mm) and fine sand(0.16-3mm) are fed onto polyurathane vibrating screen for dewatering.