Sand Washing Machine
2016-09-17
Sand washing machine is an artificial sand washing equipment (including natural sand).Sand washing machine is widely used in sand field, mining, building materials, transportation, chemical industry, water conservancy and hydropower, concrete mixing station, etc,in the washing for the material, it can remove covers impurities on the surface of the sand and gravel, destruction of coated sand layer water vapor at the same time, to facilitate dehydration, efficient sand washing cleaning effect.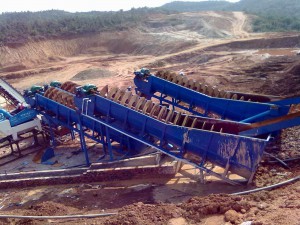 Sand washer is also called stone washing machine, it is mainly used for sand products to remove impurities such as dust machine, widely used for washing method, so called sand washing.Among them, because usually on the mechanism of sand (composed of broken stone), so also known as the stone washing machine.Because of its appearance and principle is different, also known as spiral sand washer, the drum washing sand machine, hydraulic sand washing machine (also known as wheel sand washing machine), vibrating sand washing machine, etc.
For example —XSD Wheel Sand Washing Machine,when it work,the bucket is driven by the motor through the reducer and rotates in circle. There are many sand storage web grooves and bucket screen for sand storage and primary dewatering. When the bucket moves , sand can be put out by sand storage web groove after being cleaned in the cleaning tank and primary dewatered on the bucket screen. Waste water runs off through the web groove's holes. Keep the water supply to increase final sand clean and quality. The waste water flows into a settling pond, and washed sand is delivered through belt conveyor. This whole washing process is finished.