Sea sand desalination production line
2017-02-13
Sea sand desalination production line main equipment includes: sand sieving machine, conveyor,bucket wheel sand washing machine, sand washing machine, sand drying machines and other equipment.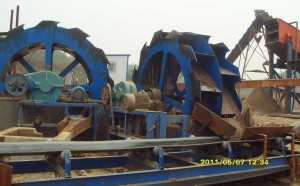 First ,sand through the belt conveyor into sand sieving machine,screen out the shells and pebbles through the sieve, and then into the lower shaker, after filtering impurities smaller shells again ,then through  slide into wheel sand washing machine to complete the cleaning, after two times cleaning, qualified  sand are  sended  to the yard.
n order to distinguish whether the sand is sea sand, is actually very simple, to see whether it contains sand and small sea shells on it.  the wheel sand washing machine is most important in the sand desalination  production line.