The advantages of granite crusher
2016-12-19
Granite is igneous rock, also called acid crystals plutonic rocks. Granite is rich in the coarse or medium intrusive rocks of quartz and feldspar. Granite can be used for the high way, railroad and construction materials.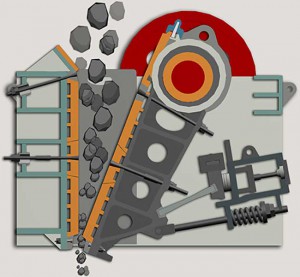 LZZG adopts the lamination principle to design and manufacture the crushing machine. So that it can reduce the consumption of the wear parts.
Granite crusher (usually jaw crusher) adopts the tooth shape guard board to enlarge the effective length of the jaw plate. So that this can increase the productivity. It assembles the most advanced movable jaw plate to make it more durable.The assembled movable jaw plate adopts high quality steel castings constitution, and is drove by two large steel flywheel. Bearing seat adopts  integral cast steel structure. The whole cast steel bearing seat can guarantee completely matched with a broken frame, and also greatly enhance the radial strength of the bearing seat.However the split type bearing seat doesn't have this advantages.