The characteristics of wheel bucket sand washing machine
2017-04-24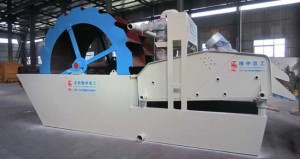 1、each part of the structure is reasonable, the impeller transmission bearing device and the water and the water material isolation, to avoid the bearing due to flooding, sand and pollutants cause damage;
2 、the loss rate of fine sand is low, and the grade and fineness modulus of washed sand can be up to the standard of national building sand.
3、 the machine in addition to the screen almost no wearing parts.
4、 processing capacity, low power consumption;
5 、long service life, easy maintenance, if there is a problem the company sent someone to handle;
6 、save water resources, energy saving;
7、 no pollution, high cleanliness, environmental protection.