The customer should know the basic common sense about the Sand Washing & Dewatering Machine
2016-10-19
1.The first, you should read the instructions, after the purchase of equipment should be read carefully the relevant instructions, familiar with the use and maintenance, you don't handle it by yourself without skilled cases, so as to avoid unnecessary accidents.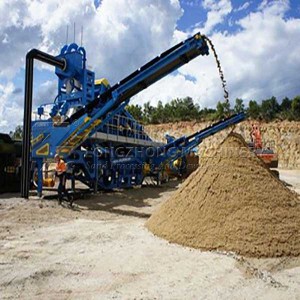 The unqualifiedpower supply are not allowed to use, using the unqualified power, not put no roasting good electrode, lower electrode and lower electrode after a few minutes to pay attention to the quality of electrode, mobile electrode less as far as possible or not moving motor, take various measures to prevent electrode soft broken.In the event of soft fault should be handled immediately.
There is something banned machine operation, the Sand Washing & Dewatering Machine
check before you start working in presence of ore or reporting etc.Sand washing are not allowed to take the load starts, dehydration machine loading can cause the electrical trip or machine parts damaged, therefore, should check before starting, or iron ore, if any, shall be cleared to start.
Should be shut off the power when the power is cut off, when use guarantee adequate electricity, if you have suddenly without electricity, remember must cut off power supply first, suddenly calls will cause unnecessary damage.At the end of the work should be tidy up thing, leave off mains, form the good habit of work.
5.Only use maintenance is not absolutely out of question, is quite important for it maintenance, use for a long time will bring the machine unnecessary wear and tear, so be sure to check the degree of wear and tear of the machine, on a regular basis to do maintenance, lubricating oil regularly, let you of the machine to play a bigger role.