The performance analysis of Long sand washing recycling machine
2016-07-26
Sand washing recycling machine is the patent products of Longzhong , as a new environmentally friendly sand washing machine with extensive use of the machine, sand stone factory of sand washing operation, also can be used for sludge treatment equipment, or for the separation of silt fine sand were extracted, function and different and reliable performance.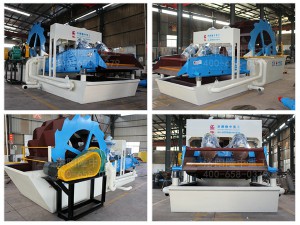 Recently, Hubei Wuhan a enterprises purchase equipment in after shield piling sediment separation fine sand extraction operation, the online query went to Longzhong study sand washing and recycling of various machine, after visit Longzhong production plant and equipment field praise Longzhong sand washing recycling  integrated machine performance, and my company to reach cooperation. Now the scheduled equipment has been completed, in June 22nd the loading of the work site of the customer.
Longzhong  sand washing and recycling of various machine by high pressure separator, dewatering sieve, impeller separator, a speed reducer, a high pressure vacuum pump, cleaning bins, high return water tank, an electric motor, a vibration motor components.