The reason for processing construction waste by single stage impact crusher
2016-12-05
Single stage impact crusher has many advantages on processing construction waste. In fact, hammer crusher can also realize processing materials in a single stage, but it many limitations on material selection. For example, hammer crusher can only process soft materials like limestone. Although construction waste has low hardness, hammer crusher is still unavailable since rebar in construction waste can destroy its plate hammer easily.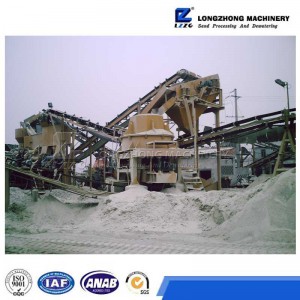 The main difference between common impact crusher and single stage impact crusher lies in structure. Single stage impact crusher has larger feeding hole and discharging hole than ordinary impact crusher. Besides, it has only two impact plates while ordinary impact crusher has three. This is also the difference between PF series impact crusher and HC series impact crusher manufactured by LZZG  Machinery.
Single stage impact crusher is suitable for customers with capacity requirements lower than 250t/h. As a professional construction waste process equipment supplier, the production capacity of our mobile crushing plant ranges from 50t/h to 400t/h. We have various cost-effective crushing machines for sale and we are prepared for your visit wholeheartedly.