The sand production line
2016-09-21
The best combination : vibrating screen + sand washing machine + sand recycle machine are widely used in sand processing.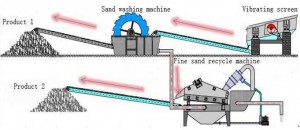 1. Vibrating screen:1-4layer, capacity: 7.5-700t/h, mesh sieve: 3-150mm, customized
2. Sand washing machine: feed size≤10mm, output≥3mm, capacity: 20-200m3/h
3. Sand recycle machine: unique fine sand 0.1-3mm, capacity:30-700m3/h
LZZG is a professing mining machinery manufacturer, our technician will design the most advanced professional process for you.