Wet sand of legal system
2016-10-29
Wet sand of legal system is the vertical shaft impact crusher and rod mill and powder recovery unit of sand body, recovery of stone powder on the tape at the same time period into the finished product storehouse} after enter the finished product warehouse, the process of mixed sand moisture content as high as 20%, it is sand flow, into the bunker, part of the fine particles of sand, stone powder and coarse sand separation, the uniformity of the sand is poor, and extended the dehydration time, typically take a week or so of dehydration to make sand moisture content is below 6%.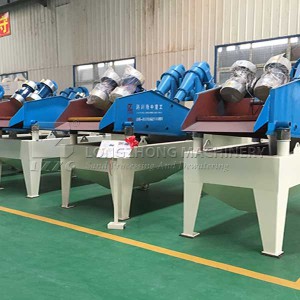 Wet sand powder legal system recovery is essential to the production of RCC with sand.Longtan hydropower project adopts wet sand way of legal system, for example, sand making system of basic normal powder recycling equipment operation, can meet the requirements of stone powder content is the lowest, basic system sand operation practice shows that through powder recycling equipment and sand scraper recycle about 17% of stone powder content in the lower limit, and there are below the lower limit of substandard happens, on powder recovery especially below 0.08 mm micro powder recovery problem is always wet sand, the defects of legal system still need further research on recycling condition.Wet dehydration craft cycle is long, affects the production of finished products sand, the need of storage is larger, and micro powder in sand loss is big, the data showed that more than 50% in circulation, finished product sand stone powder content is low, pollution to the environment.At the same time, the traditional mechanism of rod mill sand process, the steel consumption is larger, the production cost is high.In short, wet production of stone
The uniformity of powder recovery and coarse sand and fine sand and dehydration problem remains to be further research.
LZZG in the production of fine sand recycling machine is mainly used in wet sand making production line.