What are the typical features of vibrating feeder ?
2016-10-07
Vibrating feeder can feed the block and granular materials uniformly, regularly and continuously from the storage bin to the receiving device. In the gravel production line, the crushing machine can be continuously and evenly fed by vibration feeder, and the material is roughly sieved. It is widely used as crushing and screening combined equipment in metallurgy, coal mining, mineral processing, building materials, chemical industry, abrasives and other industries.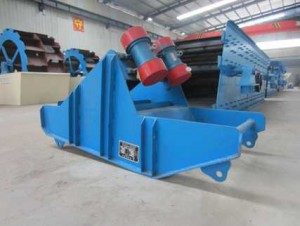 The main characteristics of vibrating feeder
1. Small volume, light weight, simple structure, easy installation, no moving parts are without lubrication, easy maintenance, low operating cost.
2. Due to use the resonance principle of mechanical vibration study, vibrating feeder can take double plastid work under low critical near resonance condition, and low power consumption.
3. Due to the instantaneous to change and open/close material flow, so had a higher accuracy of quantificationally.
4. The control equipment of this series of vibrator used silicon controlled rectifier half-wave rectifier circuit, so can in use process by adjusting the Angle of silicon controlled open way easily stepless adjustment of quantificationally, and can realize the production process of centralized control and automatic control.
5. Because the materials in the feeding trough threw up in the process of feeding by successive, and follow the path forward for parabolic jumping movement, therefore the feeding trough of wear is small.
6. This series of explosion-proof requirements are electromagnetic machine does not apply.
7. Smooth vibration, reliable operation, long service life.
8. Convenient adjustment, stable, can change at any time by adjusting the exciting force and control flow.
9. Double eccentric shaft, vibration motor as vibration source, low voice, small power consumption, good regulation performance, shine material phenomenon.
10. Fuselage can adopt sealed structure, prevent dust pollution.
11. Bolted vibrator and screen is easier to maintain.
12. Synchronous vibrating eccentric shaft.
Therefore, in the process of using the vibrating feeder is important to note a few characteristics of the above, ensure the normal use of machinery, operation.