150-200 tons / hour sand production line
Product category: sand production line
Application: suitable for hydropower, building materials, highways, railways, urban construction and other industries
Applicable materials: sand production line can be used for the production of hard limestone, granite aggregate, Xuan Wuyan, river gravel, slag and other materials and artificial sand.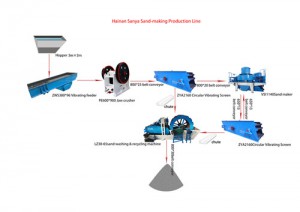 Characteristics of sand production line:
1, simple structure, low operating costs.
2, high efficiency, low consumption.
3, sand production line affected by humidity, the humidity is 8%. 4, sand production line is more suitable for crushing medium hard materials and high hardness materials.
5, the product into a cube, and bulk density, small iron pollution. 6, the working noise is less than 75 dB, dust pollution is small
Finished product
Sand production line of the production of materials, in full compliance with the national standards for building sand, uniform particle size, grain shape, reasonable grading. Not suitable for artificial sand and stone shaping.
High income has more convenient maintenance operation mode in sand production line, compared to other production line equipment maintenance is simple, the color with the most vulnerable parts of the new high strength and wear-resistant materials, low loss, long service life, can bring considerable economic benefits for the customers.