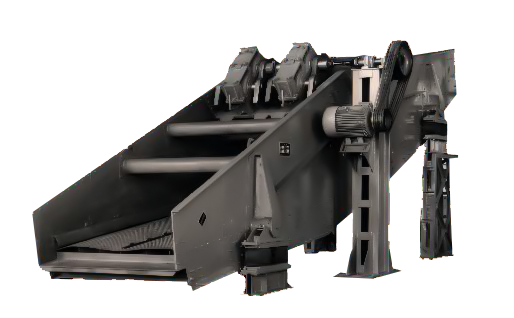 Introduction
According to the different uses and processing capacity of the sieve, the sieve adopts different sieving area, sieve slit size, number of sieve surface segments and sieve surface inclination angle. It is divided into single-layer banana screen and double-layer banana screen, with a working area of 5.7m2~ 30.2m2, a total of 20 main specifications and models, which can basically meet the production needs of various types of mines and coal preparation plants.
Working principle
The principle of equal-thickness screening is applied, and different vibration parameters, the number of segments and the inclination angle of the screen surface are adopted for different material characteristics. The inclination angle of the screen surface is too gentle, and the number of screen surface segments is 4~7, which can ensure the best screening process effect. At the same time, the gentle excessive inclination angle and the large number of segments are beneficial to the improvement of the life of the screen surface.
Salient features
The inlet end of constant thickness screen has a larger slope screen surface, and then it descends gradually at a certain angle until the discharge port. The sloped screen surface of inlet port can make more materials pass through the screen surface with higher screening speed and thinner material layering. The bulk material passes through the steep slope faster, this earlier stratification makes the fine particles closer to the screen surface faster and can pass through the screen gap relatively unimpeded. Therefore, the banana screen has the characteristics of higher screening efficiency and much higher processing capacity than the traditional grading screen, and it is an advanced screening machine.
Technical specification
| | | | | | | | | | |
| --- | --- | --- | --- | --- | --- | --- | --- | --- | --- |
| Model | Screen layer | Screen size (w*l)(m) | Screen Area (㎡) | Segment Qty | Model | Screen layer | Screen size (w*l)(m) | Screen Area (㎡) | Segment Qty |
| JR1848 | 1 | 1.8×4.8 | 8.6 | 4 | | | | | |
| JR1861 | 1 | 1.8×6.1 | 10.8 | 5 | 2JR1861 | 2 | 1.8×6.1 | 10.8 | 5 |
| JR2448 | 1 | 2.4×4.8 | 11.5 | 4 | | | | | |
| JR2461 | 1 | 2.4×6.1 | 14.4 | 5 | 2JR2461 | 2 | 2.4×6.1 | 14.4 | 5 |
| JR2473 | 1 | 2.4×7..3 | 17.2 | 6 | 2JR2473 | 2 | 2.4×7.3 | 17.2 | 6 |
| JR2485 | 1 | 2.4×8.5 | 20.1 | 7 | | | | | |
| JR3061 | 1 | 3.0×6.1 | 18 | 5 | 2JR3061 | 2 | 3.0×6.1 | 18 | 5 |
| JR3073 | 1 | 3.0×7.3 | 21.6 | 6 | 2JR3073 | 2 | 3.0×7.3 | 21.6 | 6 |
| JR3085 | 1 | 3.0×8.5 | 25.2 | 7 | | | | | |
| JR3661 | 1 | 3.6×6.1 | 21.6 | 5 | 2JR3661 | 2 | 3.6×6.1 | 21.6 | 5 |
| JR3673 | 1 | 3.6×7.3 | 25.9 | 6 | 2JR3673 | 2 | 3.6×7.3 | 26 | 5 |
| JR3685 | 1 | 3.6×8.5 | 30.2 | 7 | | | | | |
| JR4261 | 1 | 4.2×6.1 | 25.2 | 5 | | | | | |
| JR4273 | 1 | 4.2×7.3 | 30.6 | 6 | | | | | |