Dewatering screen for coal and tailings drying
2018-11-27
Dewatering screen is also widely used for coal and tailings processing besides sand, gravel materials. In order to meet the dewatering and classification requirements and fine granule recovery such as coal slime, tailings, and achieve the purpose of large processing capacity, good dewatering effect and strong adaptability, dewatering screen adopted the high frequency and high vibration intensity mechanical characteristics.
Coal slime dewatering and recovery
High frequency dewatering screen has been widely used in coal industry and coal mining mechanization, and has achieved good results in the application of coal slime dewatering and recovery. Compared with disc vacuum filter, sedimentation filter centrifugal dehydrator and horizontal sedimentation centrifugal dehydrator, coal dewatering screen has the advantages of simple structure, easy maintenance, large processing capacity, low cost of recovering slime. And these advantages are determined by its structural characteristics and motion characteristics.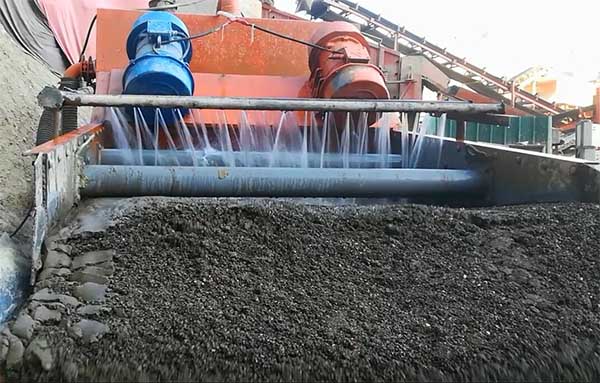 Tailings dewatering and fines recycling
Tailings dewatering screen is the core equipment of tailings dry discharge system. The high frequency dewatering screen and high efficiency concentrated cyclone configuration of the tailings dry discharge process system have been applied and promoted in tailings dry discharge, and the effect is excellent. The process is suitable for tailings with a concentration above 5% and content of -200 mesh below 70%. Firstly, the tailings are pumped into cyclone, then fed onto dewatering screen for dehydration from the bottom of cyclone. Dewatered finished products directly through belt conveyor to form stock piles. This system solves the major problem of the current concentrating plant tailings dry discharge. The water content of finished products as low as 15%, saving investment 30%-40%, saving dry discharge cost is 2-4 yuan / ton compared with other dewatering processes.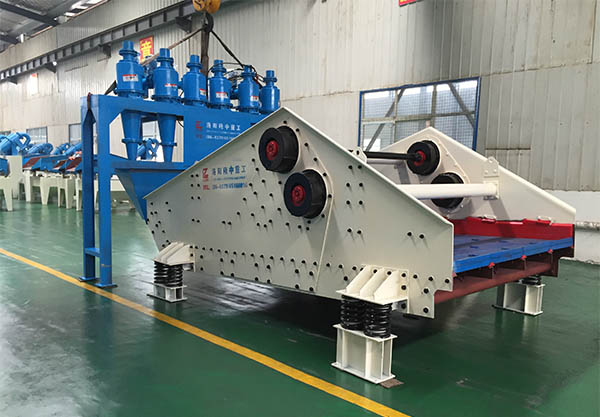 The pre-concentration of tailings adopts the highly efficient concentration cyclone, which adopts the unique structure design, has the characteristics of high concentration efficiency, strong wear resistance, long service life and so on, and has been awarded the national patent in 2008.In iron ore, even if the concentration of feed ore is about 5%, the concentration of basal flow can still maintain 65% and the yield is more than 75%.